By Post
Tymes Trust
PO Box 4347
Stock
Ingatestone
CM4 9TE
By Telephone
Leave your message on our Voicemail at 0845 003 9002 and we will prepare information to assist with your query before calling you back. Don't forget to speak clearly when leaving your number. We look forward to being of help. If you also give us some times when you'll be available to take our call, we'll do our best to fit in with your needs.
By Email
Please use this form. Don't forget to give us contact details if you want a reply!
Privacy Statement
Your privacy is extremely important to us.
The personal information you give us is only used to provide you with the services you have requested via registration or individual contact.
No third party will be given your information unless you request it.
You have the right to tell us if you:
a) No longer wish to be contacted by us;
b) Would like a copy of the personal information we hold about you;
c) Would like us to correct, update, or delete your personal information from our records;
d) Wish to report any misuse of your personal information.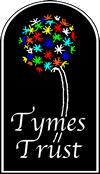 Tymes Trust
PO Box 4347
Stock
Ingatestone
CM4 9TE