The Trust is committed to ensuring that children approaching us for support are respected and protected.
Personal details are not passed to other organisations.
Registration Provides

Full access to our support services by phone, post and email

Welcome Pack

Membership mailings See Tymes Magazine

Advice Line Service

Professionals Referral Service

Personally signed Birthday and Christmas cards Let us know if you prefer not to receive cards for religious or other reasons

Each member of our Advice Line Team either has a child with ME, or has had ME themselves. You will be talking to people who understand the illness from first-hand experience. They have full information. If we do not know the answer to a question, we will find someone or direct you to someone who does. Leave your message on our Voicemail at 0845 003 9002 and we will prepare information to assist with your query before calling you back. Don't forget to speak clearly when leaving your number. We look forward to being of help. If you also give us some times when you'll be available to take our call, we'll do our best to fit in with your needs.
Our Professionals Referral Service allows doctors, teachers, social workers and other professionals to consult colleagues with knowledge and experience of ME in children.
Parents or Guardians : if your child has ME but does not want to be registered, you may register to obtain our services on their behalf. For Joint Registration (Parent and Child) at no extra cost, enter both names on the form and both dates of birth so we know who's who for mailing purposes.
Supporters and representatives of local ME groups may also register.
Wondering whether to register?
Contact us in confidence to talk it over.
Registration Form
Registration costs £10 for UK residents. Please call us if this is a problem.
If you are 26 or over, we will ask for £10 each subsequent year to cover costs.
Privacy Statement
Your privacy is extremely important to us.
The personal information you give us is only used to provide you with the services you have requested via registration or individual contact.
No third party will be given your information unless you request it.
You have the right to tell us if you:
a) No longer wish to be contacted by us;
b) Would like a copy of the personal information we hold about you;
c) Would like us to correct, update, or delete your personal information from our records;
d) Wish to report any misuse of your personal information.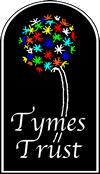 Tymes Trust
PO Box 4347
Stock
Ingatestone
CM4 9TE