The Young ME Sufferers Trust
Lord Clement-Jones CBE, Tymes Trust Founder Patron

Tymes Trust is the longest established national UK service for children and young people with ME and their families. It is a respected national charity whose entire professional team give their time free of charge. They work constantly with doctors, teachers and other specialists, and played a major role in producing the children's section of the Dept of Health Report on CFS/ME (2002).

In 2010 The Young ME Sufferers Trust received the Queen's Award for Voluntary Service - the MBE for volunteer groups - for pursuing the educational rights of children with ME and advancing their care.
In 1989, two young people with ME published the first Tymes Magazine to give children with ME a voice. For the first time, there was a place for them to share experiences and needs. Tymes Trust became a registered charity in June 2000 and now offers a range of services. We also regularly supply expert information and are consulted by doctors and education specialists as well as families, members of the press and government departments including the DoH and DfES.
The Trust works with NHS Direct, ChildLine, ASPECT, the Nisai Virtual Academy, the Association of School and College Leaders, and has Partner ME Groups around the UK. It is also a member of the ME Alliance of charities and Forward-ME.
Jane Colby FRSA, Tymes Trust Executive Director

Jane Colby is a former head teacher and a member of the National Association of Educational Inspectors, Advisers and Consultants (now ASPECT). She co-authored the largest ever epidemiological study of ME (Journal of Chronic Fatigue Syndrome 1997) which revealed that ME is the biggest cause of long-term sickness absence from school. As a medical and educational author, she has been published in the Journal of Clinical Pathology, the British Medical Journal, The Lancet, the British Journal of Special Education, Special Children and other journals, and the national press. She now writes and edits the Trust's publications.

Jane prepared the questionnaire for the BBC Panorama programme on ME, is author of ME - The New Plague on the relationship between ME and poliomyelitis, and Zoe's Win (for children with ME). She edited Young Hearts, a collection of inspirational poetry by young people with ME; the foreword is by Terry Waite CBE, who launched the book in the historic venue of Warwick Castle.

Jane was for many years severely disabled with ME due to a virus related to poliomyelitis. As a member of the former Chief Medical Officer's Working Group on CFS/ME, she co-wrote the children's chapter of their report.

Whether you're joining the Trust or just thinking about it, you can subscribe to my personal monthly news alerts free. Just type your email address into the box on the home page. You won't get any spam, just my messages. I hope they are useful to you and your family.
Tymes Trust Support Services

Children with ME are frequently unable to travel in order to meet others. Our personal approach is tailored to alleviate this sense of isolation.
The Trust is committed to ensuring that children approaching us for support are respected and protected. Personal details are not passed to other organisations.
Registration provides:
Full access to our support services by phone, post and email

Welcome Pack

Membership mailings See Tymes Magazine

Advice Line Service

Professionals Referral Service

Personally signed Birthday and Christmas cards Let us know if you prefer not to receive cards for religious or other reasons.

Each member of our Advice Line Team either has a child with ME, or has had ME themselves. You will be talking to people who understand the illness from first-hand experience. They have full information. If we do not know the answer to a question, we will find someone who does.
Our Professionals Referral Service allows doctors, teachers, social workers and other professionals to consult colleagues with knowledge and experience of ME in children.
Parents or Guardians : if your child has ME but does not want to be registered, you may contact us to obtain our services on their behalf.
Wondering whether to register?
Contact us in confidence to talk it over.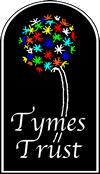 Tymes Trust
PO Box 4347
Stock
Ingatestone
CM4 9TE