Registered Charity 1080985

Tymes Trust is the only national ME charity dedicated to children and young people with ME and their families. Our entire team work pro bono and in 2010 we received the Queen's Golden Jubilee Award for Voluntary Service, for pursuing the educational rights and advancing the care of children with ME. We played a major role in producing the children's section of the Dept of Health Report on CFS/ME (2002).

You are welcome to redistribute or reprint documents from this website without seeking our permission provided: 1) you do not abbreviate, add to, or change the text in any way; 2) the authorship information is retained; and 3) www.tymestrust.org is credited as the source.
Twitter: follow us @TymesTrust and our Executive Director @JaneCColby
Family Testimonies : The Use Of Interactive Virtual Education For Young People With Myalgic Encephalomyelitis (ME)
Facebook: www.facebook.com/tymestrust (public page)
POSTERS
NO, YOU DON'T KNOW BEST
/ DON'T MAKE ME FAIL AT SCHOOL
PLEASE DON'T WAKE ME UP
/ ME IS JUST FATIGUE, RIGHT? WRONG
STOP DAMAGING EXERCISE TREATMENT FOR CHILDREN WITH ME
Recognition of our work and messages of support for the children.

TYMES TRUST STATEMENT
THE "PAUSING" OF THE NEW NICE GUIDELINE

Tymes Trust is appalled at the postponement of the new NICE Guideline on MECFS which has been finalised after three years' rigorous work and review of the evidence.

It is extremely important that the new Guideline is published to avoid any more children with ME being made worse by inappropriate and misguided therapies, or their parents being unjustly accused of making their children ill when these therapies do not work. The Trust has had to advise hundreds of such families and this situation must not continue.

The majority of families who contact the Trust also report that their children are being forced to attend school while still unwell, provoking relapses from their illness. NICE's recommendation that online education can be helpful is therefore very welcome and cannot come too soon.

We therefore urge NICE to publish the Guideline without further delay.

Supporting the cause.
Includes a full list of the charity's services.
Information booklets and magazines.
Reports, guides and other information about ME.
Get full access to our services.
Any questions?
By credit card, debit card or Paypal.
Jane Colby's new book. Free pages & Stripeysocks blog.
| | |
| --- | --- |
| | Young Hearts is a collection of inspirational poetry by over 40 children and young people with ME aged 7 to 26. Foreword by Terry Waite CBE. This book was originally the dream of Tymes member Jade Louise Scarrott who was so tragically taken from us in a road accident at the age of 14. She wanted to raise awareness and understanding of ME in children. A review was published by Special Children magazine. |
| | To commemorate Jade Louise Scarrott we present the ITV Central News feature on childhood ME which was prompted by the publication of Young Hearts. Includes interviews with Jade's mother Karen and Jane Colby. |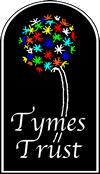 Tymes Trust
PO Box 4347
Stock
Ingatestone
CM4 9TE